---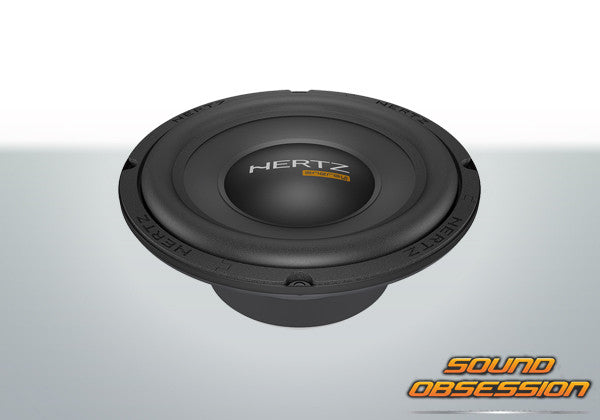 Hertz ESF20.5 Energy 8" Slimline Subwoofer
Hertz
---
The Energy ES F20.5 car audio subwoofers is the ideal solution for those who look for a subwoofer of compact size, yet providing powerful and engaging sound. At its highest excursion point, the Ultra Flat profile reaches 85 mm (3.34 in.) height for the ES F20.5 subwoofer, 94 mm (3.7 in.) height for the ES F25.5 subwoofer and 106 mm (4.17 in.) for the ES F25.5 subwoofer. Care has been put into every detail of the design and building of these subwoofers, to ensure high mechanical quality as well as efficient thermal capability, to the benefit of bursting dynamics and startling power handling. Robust ferrite magnet motor assembly, pressed-paper cone, Back Vented Spider Support and copper voice coil, wound on aluminium former, are only some of the unique features of the Energy Flat subwoofers. The linear and solid design of the Energy, ES F20.5, ES F25.5 and ES F30.5, is enhanced by the ultra flat profile as well as by the Hertz logo on the dust-cap, making their cosmetics suitable to any installation.
Specifications
Size mm (in.): 200 (8)
Power Handling - Peak W: 600
Power Handling - Continuous W: 200
Impedance Ω: 4
Frequency response Hz: 32 ÷ 400
Sensitivity dB SPL: 93
Voice coil Ø mm: 38
Xmax mm: 5
X-mech mm: 12
Re Ω: 2,9
Fs Hz: 52
Vas l: 13,2
Qts: 0,4
Qes: 0,46
Qms: 3,38
Spl dB: 93
Technologies
Ultraflat
Small size for installations without limits. Accurate study of the components' profile carried out more compact baskets and motor assemblies.
Verified by Klippel
The Klippel quality control system is our guarantee to always produce a product entirely in compliance with the most challenging international standards.
---
More from this collection