---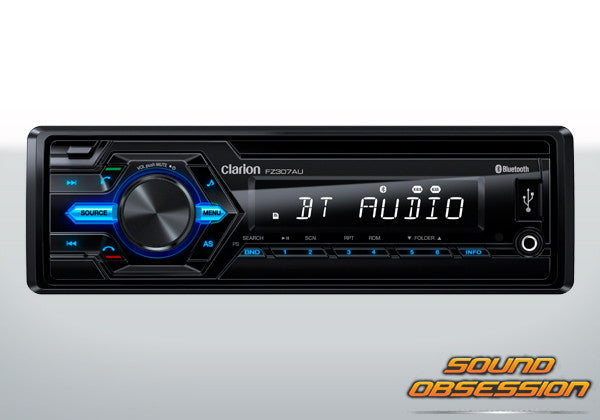 Clarion FZ307AU USB/AUX-IN/SD/MP3/WMA RECEIVER WITH BUILT-IN BLUETOOTH
Clarion
---
Cool blue illumination on sharp edgy black design
With a black body that would match any dashboard, this device is the perfect accessory for your car-especially with easy-to-reach buttons located right next to a large volume knob.
Easy to see controls balance good looks with usability
Key functions are positioned close for easy access. Even selecting songs stored on a connected Portable audio or USB memory is made simple. Switching between sources like CD and USB, as well as selecting your preferred sound settings, can be done easily and close to the volume knob.
14-segment 8-digit 1-line LCD
The 14-segment 1-line display on the FZ307AU allows numbers and characters to be displayed clearly - in all lighting conditions. Whether you want to know what song is playing or just need to know the time, it's always easy to see.
Media connectivity
Built-in Bluetooth® hands-free and audio streaming
FZ307AU' s built-in wireless Bluetooth interface supports HSP / HFP for hands-free operation. You can easily communicate with the outside world by listening to phone calls through the car's audio system and talking through the embedded microphone. And with A2DP / AVRCP support, you can enjoy music streamed from your mobile phone.
Multimedia support including iPhone®, MP3 / WMA compatible front USB or SD memory
Just connect your iPhone to the source unit's USB port to access and play music through your car's audio system. Music search is possible using the source unit's controls. The front USB slot also supports playback of MP3 and WMA format audio files, so you can save your favourite music onto a USB or SD memory device and enjoy them in your car.
Superior iPod® and iPhone® connectivity
Enjoy the familiar control and feel of your iPhone, with ALBUM / ARTIST / SONG LIST on screen display and List back operation. Simple control mode lets you easily operate the system using the controls on your iPhone, including ABC Search to quickly access your songs.

* For audio playback, please use the USB cable provided with your iPod and iPhone.
Front AUX input lets you easily connect to external sources
You may have a wide variety of music sources, from the latest digital device to the antiquated analog machine. Whatever it is, as long as it has an AUX output or headphone jack, you can easily attach it to the source unit's front panel AUX input, to continue enjoying your favourite music source.
Sound technology
Beat EQ for customisable sound
This radio provide 11 preset equalization patterns EQ FLAT, EQ JAZZ, EQ POP, EQ CLASS, EQ ROCK, EQ NEWS, EQ URBAN, EQ RAVE, EQ MOVIE, EQ TECHN and EQ USER, further in EQ USER lets you freely customise the level an range of the BASS, MIDRANGE and TREBLE portions. You can tune the sound to your liking, depending on the category of music, for a more personalized and fulfilling listening experience.
Low Pass Filter for subwoofer
Switching on the Low Pass Filter (LPF) will send only the low frequency range through specified outputs to ensure superb performance when connected to a subwoofer.
2V / 6-channel audio pre-out makes it easy to expand and upgrade
With 3 sets of RCA outputs, you are free to add external power amplifiers to create a more powerful, sophisticated audio system. Also, independent volume control is enabled for the subwoofer so you can adjust the level of bass output to your liking at any time, regardless of the output level of the other channels.
Specifications
TUNER
Frequency bands: FM/AM
FM : (MHz) 0.05MHz steps: 87.5 to 108
AM : (kHz) 9 kHz steps: 531 to 1,629
FM usable sensitivity (dBf): 8
FM 50 dB quieting sensitivity (dBf): 17
FM alternate channel selectivity (dB): 60
FM stereo separation @1 kHz (dB): 30
FM stereo freq. resp. @ ±3 dB (Hz): 30 to 15,000
CONNECTION FOR USB
USB requirements: USB 1.1/2.0
USB class: Mass storage class
File system: FAT 12/16/32
MP3 decoding: MPEG-1/2 AUDIO layer-3
WMA decoding: Windows Media™ audio
Bluetooth®
Bluetooth version: 3
Output power: Mass storage class
File system: Power class 2
AUDIO
Power output: 4×45W
GENERAL
Dimensions (W×H×D) (mm): 188×57.8×196
Remote control (W×H×D) (Approx mm): 70×34×10
Weight (kg): 1.5
Power requirement: 14.4 DC (10.8 - 15.6 V allowable)
Power consumption: less than 15 A
Speaker impedance: 4Ω (4Ω to 8Ω allowable)
Pre-maximum output voltage: 2V / 10 kΩ
Maximum mounting angle: 30°
Remote control included
---
More from this collection